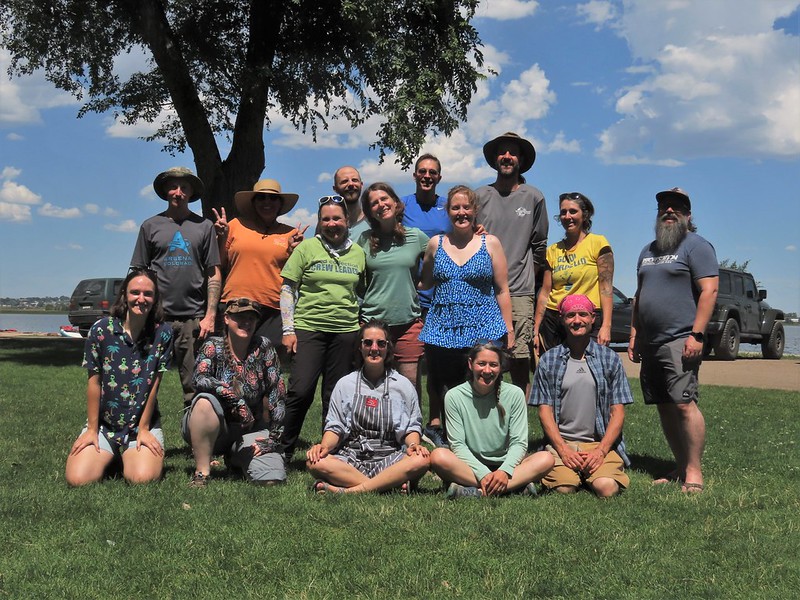 The WRV team and volunteers work on the basis of shared values: love of nature, healing, building community, education, empowerment, tangible results, and celebration. Staff are based out of offices in Longmont and Fort Collins, but function as a single, cohesive team in implementing our mission across Colorado and beyond.
Job Openings
SEASONAL PROJECT COORDINATORS
WRV will post one year-round Project Manager opening and multiple seasonal Project Coordinator openings for the 2024 field season by early December 2024. These are full-time positions based out of our Longmont or Fort Collins offices. Preferences for part-time work may be considered. Trails experience will be required for one of the positions. Spanish language skills desired. Please check back for full details.



Internships
WRV works with interns from local universities throughout the season. These internships are informal and customized to meet the needs of current projects at WRV and the individual curriculum of each student.  Many students can gain field experience by participating as a crew member on our volunteer events and training in our volunteer leadership program held in March each season, Wildlands University. If you have questions about how to get involved or would like to target learning specific restoration or trail skills, please reach out to us at info@wlrv.org or call 303-543-1411 ext 200 to speak with Annemarie about our programs.

If you are interested in an internship that goes beyond volunteering and volunteer leadership opportunities, please send an email to info@wlrv.org with resume or summary of qualifications, your expected availability (hours/week and total weeks), and what you would like your internship to focus on.
Staff DIRECTORY
General Inquiries: info@wlrv.org
Driving Directions: Longmont and Fort Collins offices
Phone: 303-543-1411 / 970-493-2075
Press 1 for questions about volunteering

Alphabetical by first name:
Administrative Staff
Jess Turner, Administrative Coordinator – 100, jess@wlrv.org
Katherine Postelli, Executive Director – 112, katherine@wlrv.org
Melinda Courtman, Finance & Administrative Assistant – 105, melinda@wlrv.org
Sarah Egolf-Tarr, Development Director – 108, sarah@wlrv.org
Vera Line, Director of Finance – 117, vera@wlrv.org
Program Staff
Adam Fedyski, Project Coordinator – 110, adam@wlrv.org
Anna DeGolier, Youth & Family Project Manager – 116, anna@wlrv.org
Annemarie Fussell, Volunteer Community Coordinator – 200, annemarie@wlrv.org
Cameron Taylor, Forests Project Manager – 202, cameron@wlrv.org
David Fulton-Beale, Program Coordinator – 106, david@wlrv.org
Geoffrey May, Project Manager – 103, geoffrey@wlrv.org
Kevin Pierce, Bilingual Project Manager – 111, kevinp@wlrv.org
Kevin Shuck, Managing Director – 101, kevin@wlrv.org
Morgan Crowley, Program Manager, Habitats & Invasive Weeds – 102, morgan@wlrv.org
Nate Boschmann, Program Manager, Trails & Habitats – 203, nate@wlrv.org

Administrative Staff
JESS TURNER – ADMINISTRATIVE COORDINATOR
303-543-1411 ext. 100, jess@wlrv.org
Jess earned her degree in Natural Resources Management & Conservation Biology from Colorado State University and joined WRV as a volunteer after meeting a staffer at a university event. After mentoring in field leadership roles, she applied for a grant-writing internship in 2013, and basically never left. Jess has a decade of varied experience in collaborative projects and data management, from goshawk feathers for Artificial Intelligence bird identification, to Geographic Information System mapping and public safety jurisdictions. She enjoys lake walks with her dog, finding diverse sci-fi/fantasy stories, and obsessing over ways to bring her household closer to zero waste.
Return to Top
KATHERINE POSTELLI – EXECUTIVE DIRECTOR
303-543-1411 ext. 112, katherine@wlrv.org
Katherine Postelli joined Wildlands Restoration Volunteers as Executive Director on August 1, 2018. Between 2006 and 2018, Katherine had led The Nature Conservancy's community-based conservation work, first on Hawaii Island and then in the Greater Yellowstone Ecosystem. Her work involved bringing diverse partners together to implement shared solutions to conserve big game migration corridors, improve water quality, and enhance habitat for native birds, among other things. She holds a master's degree in Botany from the University of Hawaii and previously worked with the U.S. Geological Survey in science communications. Katherine is raising two daughters who enjoy river sports, skiing, playing music, riding bikes, reading, and giving their mother a hard time.
Return to Top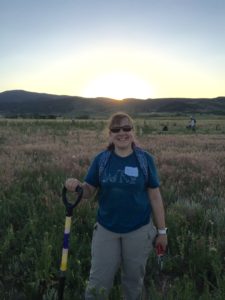 MELINDA COURTMAN – FINANCE & ADMINISTRATIVE ASSISTANT
303-543-1411 ext. 105, melinda@wlrv.org
Melinda first came to WRV as a volunteer seed collector and just can't seem to get enough. She proceeded to volunteer on many trail restoration projects and weed removals and felt that she had more to contribute. After being a full-time mother for 16 years and knowing that the home-front is under control, she is finally putting her Economics degree to work and is now working for WRV as a part-time Finance Assistant. In her spare time Melinda loves hiking, biking, skiing, snow showing, kayaking, and volunteering on WRV projects.
Return to Top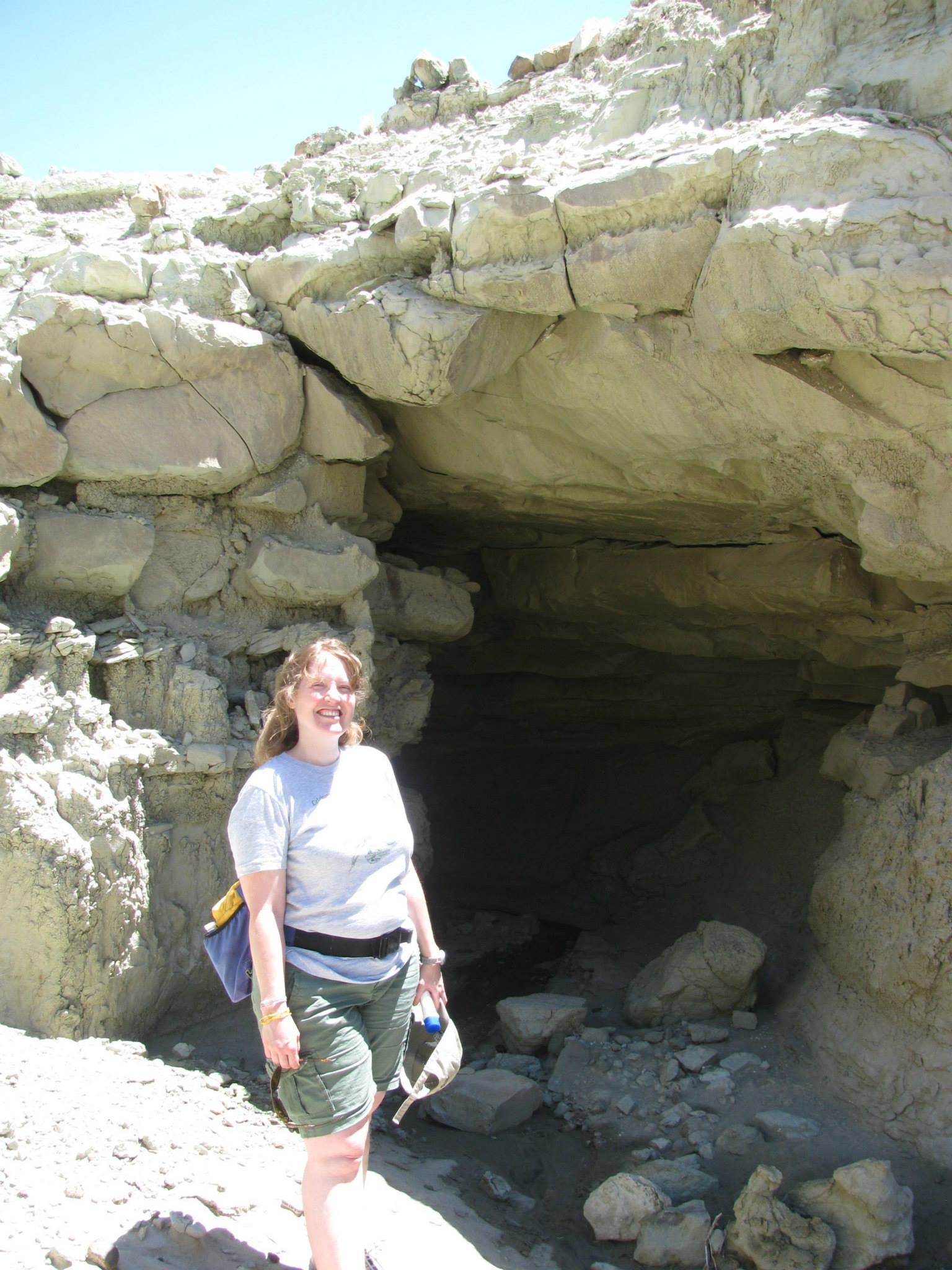 SARAH EGOLF-TARR – DEVELOPMENT DIRECTOR
303-543-1411 ext. 108, sarah@wlrv.org
Sarah Egolf-Tarr energizes members and foundations to support WRV's work by writing annual appeals and grants, and by coordinating fund-raising events. Sarah is passionate about preserving and restoring wildlife and wildlands in the Rockies. She joined WRV's team in 2011 after work at the Rocky Mountain Herbarium and Biodiversity Conservation Alliance in Wyoming. Sarah holds a Bachelor's from Earlham College, and is a Certified Fund Raising Executive. When not at work, Sarah enjoys studying West African dance, playing board games with friends, and hiking.
Return to Top
VERA LINE – DIRECTOR OF FINANCE AND OPERATIONS
Vera grew up in Germany and fell in love with nature on long camping/hiking trips with her family. After completing her Master's in Psychology, she moved to the US and has been calling Colorado home since 2007. Vera is drawn to work that has a positive impact on her community, and she spent 15 years at Bridge House, a nonprofit organization in Boulder providing comprehensive services to adults experiencing homelessness, where she served as the Director of Finance for 12 years. Vera joined WRV in 2023 and is very excited to support WRV's mission of healing the land and building community. In her free time, she enjoys spending time outdoors with her family and dog, traveling, and "creating" in various ways (baking bread, sewing, etc).
Return to Top
Program Staff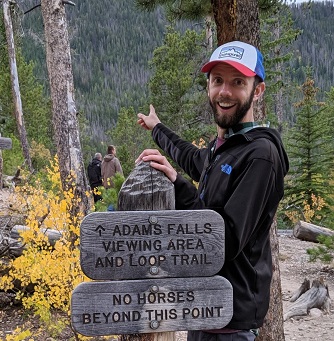 ADAM FEDYSKI – PROJECT COORDINATOR
303-543-1411 ext. 110, adam@wlrv.org
Adam was born and raised in northern Illinois. He began leading restoration work as the esteemed Geography Club President at Southern Illinois University. After graduating college, he spent a season as an Environmental Education Intern at Great Smoky Mountains National Park that forever changed his life and career path. Drawn to mountains and outdoor work, he lived in four states for different seasonal jobs until he landed in Colorado in 2012. He has worked as a Volunteer Coordinator and Environmental Educator for several nonprofits since then and is excited to be supporting WRV since 2021. In his free time, Adam enjoys hiking, camping, snowboarding, playing and writing music, and any opportunity to play a game.
Return to Top
ANNA DEGOLIER – YOUTH & FAMILY PROJECT MANAGER
303-543-1411 ext. 116, anna@wlrv.org
Anna grew up hiking with her mom in Boulder, Colorado and loves nothing more than being outside. She recently graduated with a degree in Environmental Studies and Hispanic Studies from Oberlin College. During her time there, she focused on the intersections between human rights and environmentalism and was involved in immigrant rights and indigenous solidarity organizations on and off-campus. During her third year, she participated in a study away program on the US/Mexico Border and was an intern at Las Milpitas Community Farm. This experience helped her discover her passion not only for working outdoors but for working in bilingual spaces. When this program was over, she found an internship in Spain where she worked as an educator teaching youth English. She has also worked as a volunteer and intern for Americas for Conservation and the Arts and the Americas Latino Eco Festival. She is excited to be working with Spanish-speaking youth and families once again at WRV. When she isn't working, Anna loves hiking, watching movies, flamenco dance, cooking, and snuggling with her cats and dog.
Return to Top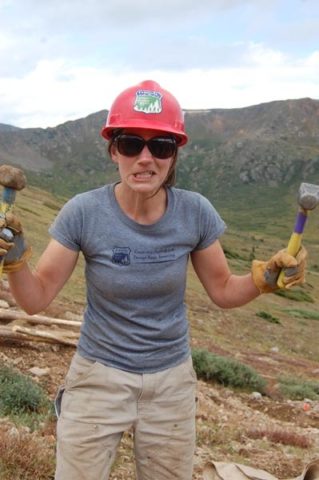 ANNEMARIE FUSSELL – VOLUNTEER COMMUNITY COORDINATOR (Fort Collins office)
970-493-2075 ext. 200, annemarie@wlrv.org
Annemarie (Am) is excited to serve as the Community Relations Coordinator in the Ft Collins  office. Growing up in New Jersey camping in the Eastern woods with her parents, she truly fell in love with the outdoors and found her calling in life. After attaining a BS in Wildlife Biology from CSU and with a background in volunteer coordination, trail restoration and science/public policy education, Am is delighted to support our volunteers and restoration efforts. Before moving back to Fort Collins from Summit County, Colorado, she traveled through Patagonia, Western Europe and the Southern Rockies living on her bike for months at a time. Now she spends her time focusing on a sustainable lifestyle commuting by bike, volunteering and vegetable gardening.
Return to Top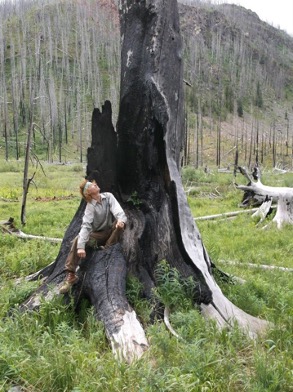 CAMERON TAYLOR – FORESTS PROJECT MANAGER (Fort Collins office)
970-493-2075 ext. 202, cameron@wlrv.org
Born and raised in the foothills of Colorado, Cameron has always had an appreciation for stewardship and the outdoors. Restoration first peaked Cameron's interest after participating in Rocky Mountain Youth Corps immediately after high school. From there he received his undergraduate in forest biology from Colorado State University (CSU). After working for the USGS where he focused on post-fire effects on forests, he served in the Peace Corps living in rural Malawi working with other natural resource managers to address local environmental issues. Through this, Cameron came to the realization that the best way to use his skills to help others and the environment was through the further advancement of his career in stewardship which led him to complete his Masters in Natural Resources Stewardship and Ecological Restoration from CSU. When he is not working for WRV, he likes to raft, kayak, climb, fish, and play music along the Poudre River.  
Return to Top
DAVID FULTON-BEALE – PROGRAM COORDINATOR
303-543-1411 ext. 106, david@wlrv.org
Growing up in Boulder, David started volunteering with Wildlands Restoration Volunteers when he was 12, and became a crew leader and a member of the Youth Steering Committee when he was 16. He went on to earn his Bachelor of Science in Ecological Restoration from the University of Montana. After graduation, he returned to Boulder, and came back to WRV to continue pursuing his passion for restoration. In his spare time, you can find David hiking, mountain biking, backpacking, or in the kitchen trying a new recipe. 
Return to Top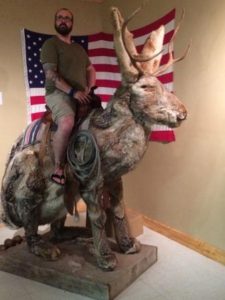 GEOFFREY MAY – PROJECT MANAGER
303-543-1411 ext. 103, geoffrey@wlrv.org
Geoffrey began his relationship with WRV as a volunteer in 2013 and joined the staff in 2015. Previously he managed projects for a nation-wide firm specializing in power grid inspections where he spent many hours in a helicopter over New England and the east coast. In addition to managing trails and restoration projects, Geoffrey manages the Cook Program at WRV where he trains and coordinates volunteer cooks to help feed our crews in the field.
Return to Top
KEVIN PIERCE – BILINGUAL PROJECT MANAGER
303-543-1411 ext. 111, kevinp@wlrv.org
Kevin joined WRV as a Project Coordinator focused on Youth and Family projects in 2021. He grew up in Boulder where he got his start in conservation and natural resource work as a youth conservation corps member in high school, and has been working in related fields ever since. His background includes work with municipal, county and non-profit youth corps programs, and leading a range of volunteer projects as an agency staff member. He also served for several years as a Peace Corps Volunteer in Paraguay where he worked with community groups and non-profits in environmental education and youth development. He studied Ecology at the University of Colorado and has an MS in Conservation Leadership from Colorado State University where he studied collaborative conservation in the Peruvian Amazon. In his free time you can find Kevin at the park or on the trail with his dog, or at the fire station in the Big Thompson Canyon where he is a volunteer.

Return to Top
KEVIN SHUCK – MANAGING DIRECTOR
303-543-1411 ext. 101, kevin@wlrv.org
Combining a background as a research biologist with extensive experience in non-profit senior management, Kevin has worked to ensure the programmatic and operational success of WRV as Director of Programs since 2017. He holds a Ph.D. in Biological Sciences from Northwestern University and has led multiple non-profits through expansion periods with nationally significant results. In a previous position, he developed an indoor/outdoor "Nature & Music" series bringing together professional musicians, artists, naturalists, and land management agencies that was featured as a model for community engagement by the Kennedy Center and National Park Service in Washington, DC. He's never met an Excel formula he doesn't like, and he knows his way around a French horn. In his spare time you can find him pursuing his own restoration projects on his property in the Boulder foothills, backpacking, traveling, and getting his daily news fix in multiple languages.
Return to Top
MORGAN CROWLEY – PROGRAM MANAGER, HABITATS & INVASIVE WEEDS
303-543-1411 ext. 102, morgan@wlrv.org
Morgan joined WRV in 2014 following eight years as a volunteer. She has now stepped up to fill the position of Program Manager for both the Invasive Weeds Program and the southern unit of our Habitats Program. Combining on-the-ground leadership experience with WRV, several seasons with the City of Boulder in habitat restoration, a Master's in Landscape Architecture, and a fiery passion for the mission and work of WRV, Morgan's focus includes facilitating the growing Myrtle Spurge Coalition and coordinating with the agency partners. Morgan has been wandering the local hills for 18 years getting to know the plants, animals, and minerals therein and can often be found doing that or moongazing, baking, fortune telling, writing, crafting, or drinking coffee in a local cafe.
Return to Top
NATE BOSCHMANN – PROGRAM MANAGER, TRAILS & HABITATS (Fort Collins office)
970-493-2075 ext. 203, nate@wlrv.org
Nate oversees WRV's Trails Program as well as the the Northern Colorado and Wyoming region of our Habitats Program. He spends his days recruiting and training volunteers, coordinating restoration projects, and trying to convince people that stacking large rocks is as much fun as he thinks it is. Nate's first foray into the restoration world was his participation in a tall grass prairie restoration in his hometown in Kansas when he was 14. After completing a number of undergraduate degrees, some time overseas, and a few misguided attempts at profitable careers, he returned to his true place in the world of experiential education, ecology, and restoration. Since moving to Colorado, Nate's been a ski bum, worked with at-risk youth, facilitated wilderness therapy, lead Youth Conservation Corps, and taken up studies at CSU in Rangeland Ecology and Restoration. He's currently also serving on the Pawnee Byways Committee and on the board of the Coalition for the Poudre River Watershed. A young family occupies much of Nate's free time, but he still finds time to indulge his other interests including sustainable local food production, wilderness medicine, and zombie movies.
Return to Top